02/11/2013 – Featured Swimwear Designer: Heather Stepanik, Owner of Red Dolly Swimwear. Located in Riverside, CA.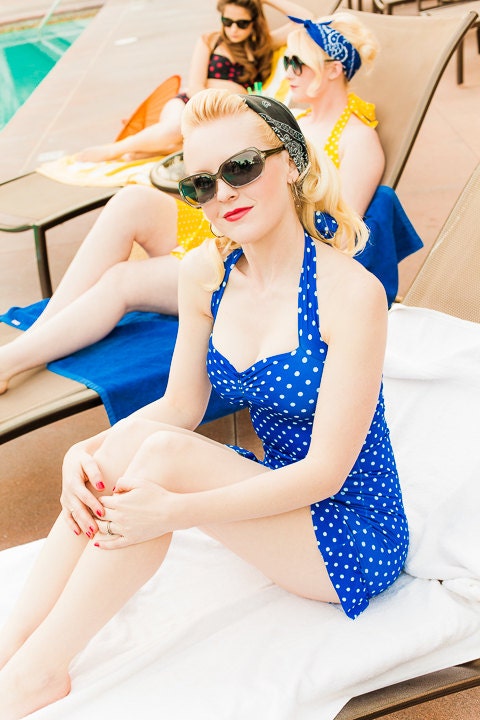 1. Tell us a little about you and your business
My Name is Heather Stepanik and I started my business Red Dolly swimwear in 2008. After having such a hard time finding a modest-yet-cute swimsuit I decided to make one for myself. At the time I had my AA in Fashion design and had worked in the Bridal market for a few years but had never dabbled in swimwear. I loved the suit that I created and figured other women would as well So I started listing my suits online and from there my business took off! Every year my business has grown and I love that I am in control of how I make and sell my product.
2. Where do you draw inspiration from for your swimwear?
I get a lot of inspiration from the fabrics I find. Sometimes I will see a really neat print and an idea for a suit will come to me. I also get a lot of inspiration from my customers. I love working with women to create a suit that they feel Beautiful and comfortable in!
3. Do you design and create your own products?
Yes! I do it all! I design, cut, sew, list, promote, and sell all of my suits pretty much by myself. Like I said before every year my company is growing so I have had to hire a design assistant to help with the work load when it's swim season. But I do love being in creative control and being able to Manage everything in my own way and time.
4. Where is the best place for people to buy your products?
Right now I only Sell my suits on TheRedDolly.etsy.com but my shop can be linked through my website RedDollySwimwear.com where you can also find my little girls swimwear line and lots of pics of my customers in their suits! ; )